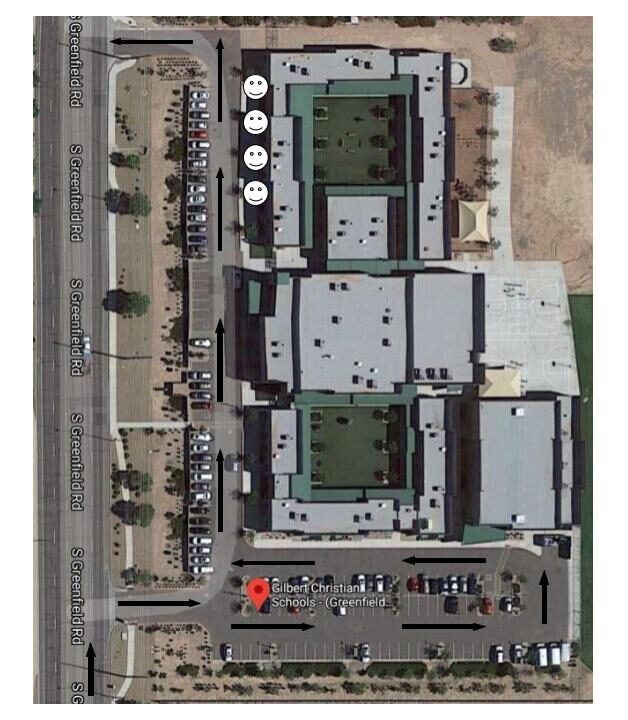 Driveline is the process used at the Greenfield campus in grades Kindergarten to 8th grade to coordinate a rapid student release in a safe, quick and orderly fashion. Driveline minimizes student exposure to extreme weather conditions, parent wait times, students wandering around school grounds, and local traffic problems. PreK students may also use Driveline after Labor Day. 
Driveline Times: There are four Driveline release times between 2:55-3:30. After 3:30pm, any student not picked up will be walked to the front office.  Parents must then park and come into the office to sign your student out.  Teachers and office staff have much work to finish after the children go home.  Please protect their planning time by picking up your child on time. 

Helpful tips to ensure a safer and faster Driveline experience:
1. Please do not use your cell phones while in the parking lot. Alternating lanes and more traffic flow will need to be navigated to ensure the safety of our students.
2. Please do not get out of your cars. We have staff in the loading zone to help students into your car.
Thank you GCS families for your support and patience in helping us ensure a safe and efficient system to dismiss your students. If you have any questions or concerns, please email kristena.kailey@gcsaz.org or call the front office. We love your students and consider it a blessing to serve you and them.