Build a better future for your child with us
At Gilbert Christian Schools (GCS), we want to partner with you to prepare your child to impact the world for Christ. 
Average Student/Teacher Ratio
4.0 or higher weighted GPA (Class of 2023)
Nationally recognized CESA Accredited Schools
Our four campus locations serve over 1300 families across the East Valley.
At GCS, we recognize that parents are the primary spiritual leaders of the home and we want to partner with you as you disciple your kids. We believe that the home, the church, and the school should all be aligned in their teachings. That's why everything from the classroom to co-curriculars is based on biblical integration. We hire qualified teachers, administrators, and coaches with strong personal testimonies of faith.
Stop worrying about the negative influence of a school community that doesn't align with your beliefs and values. Enroll your child at Gilbert Christian Schools where they will be encouraged both academically and spiritually.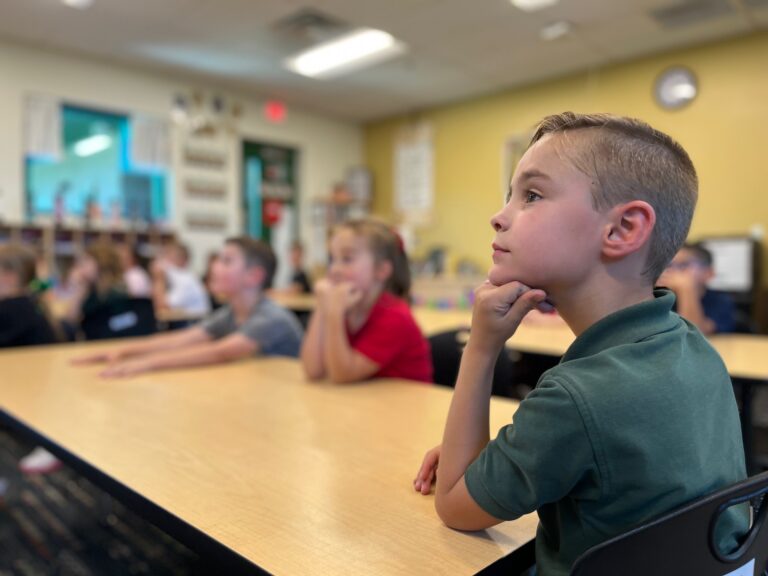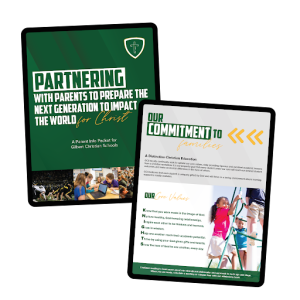 SEARCHING FOR THE RIGHT SCHOOL FOR YOUR FAMILY?
Take a closer look with our Parent Info Packet!
In Fall 2023 we opened our fourth Gilbert Christian Schools campus, welcoming over 500 new students. Val Vista sits on a 10-acre site and boasts a 51,555 square-foot main building with 33 classrooms and another seven classrooms dedicated to special education.
we believe in biblical integration
We help students think biblically and critically about every subject and in every activitiy.
celebrating 15 years of gilbert christian schools
Serving over 2100 students for the 2023-2024 school year.
"Gilbert Christian is a remarkable example of God's Kingdom expanding in Arizona. The growth, attractive physical plant, and reputation of the school have made it a highly-desired educational and spiritual home for 1500+ students. Jim Desmarchais, the board and school leadership deserve high praise for successfully managing such a meteoric rise."
CESA Accreditor
My kids love going to school and feel supported by their teachers and staff. Being in a Christian environment has helped my children feel safe and loved allowing them to flourish in their education!
GCS Parent
Gilbert Christian Schools is everything (and more) we've be looking for. I could tell from the smiles I saw in classrooms, and amazing teacher energy that this is truly an amazing environment. I really hope our daughter can join next fall and be a part of this amazing community.
Prospective Parent
"The faculty and staff are exceptionally talented and hard-working, and, more importantly love the Lord and their students. Over the last few years, lead teachers, department chairs, and academic leaders have made steady progress in aligning the K-12 curriculum. GCS teachers are exemplary and should provide state and national professional development leadership to other Christian educators."
CESA Accreditor
"GCS has positively impacted our junior high son by surrounding him with teachers who pure God's truth and love into him daily. That combined with the small student body is exactly where our son needs to be. Thank you!"
GCS Parent