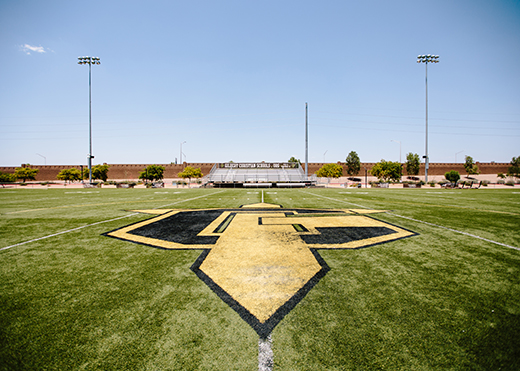 Champions For Christ
Dedication, Discipline, Teamwork, and Excellence
What does it take to shape the heart of a champion? The answer is not a simple one. Part of the answer includes a lot of hard work and prayer.  Excellent coaching. A great team. The will to overcome obstacles. At
Gilbert Christian School
, we want athletes to understand that they can compete at the highest level by giving their best to the glory of God. We remember that Talent + Effort + Attitude = Success.
In the 2017-2018 year, we had 70% of our high school student body compete in JV or Varsity sports. 13 varsity teams won the AIA Dr. Voie Stuart Chase Coy Scholar-Athlete Team Award with 126 varsity athletes winning the same AIA individual award.
---
Of the 57 regional and state awards given to individuals at GCS by the AIA last year, here are some highlights:
Men's Football– State Offensive Player of the Year
Men's Basketball– Region Champs, State Defensive Player of the Year
Women's Basketball– Region Tournament Winners
Women's Soccer– Region Champs, State Quarterfinals, 3 all-state 1st team placements
Baseball– Region Champs, ranked #1 in the state, several regional and state awards, region coach of the year
Track– 1st place Men's 100 meter
...by giving their best to the glory of God.
Sports We Offer
Gilbert Christian High School competes in the Arizona Interscholastic Association (AIA). We offer competitive programs in both men's and women's sports for the fall, winter, and spring seasons. Our men's and women's volleyball (including beach) and softball programs are growing. Our soccer, baseball, basketball, football, tennis, track, cross country, spiritline, and golf programs have all had recent post-season success. Many of our athletes receive regional and state accolades every year. GCS has had alumni competing in a variety of collegiate sports around the country including athletes on scholarship to Division 1 programs. We have a full-time athletic trainer and support our athletes with off-season conditioning and skills development.