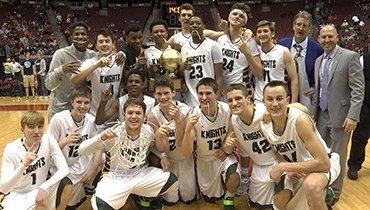 It is the primary purpose of the boys basketball program to use the sport of interscholastic basketball to teach young men to develop technical and leadership skills to their fullest potential, to commit to a collective goal, to compete regardless of the obstacles, to learn how to prepare physically and mentally and to show respect for their coaches, teammates, opponents and officials; all for the glory of our Lord and Savior Jesus Christ.
Philippians 4:13 "I am able to do all things through Christ who strengthens me."
Head Coach Kurt Keener
Coch Keener is in his 41st year coaching, this is his fifth season at Gilbert Christian, with a career record of 783-220. He was the Varsity head coach at Detroit Country Day School and when he retired from there in 2013 he was #2 on list of most career wins in Michigan. During his career in Michigan DCDS won 25 District titles, 17 Regional titles and nine State Championships. Since arriving in Arizona all of Coach Keener's teams have qualified for the state tournament.
The Knights have won the last four Sectional/Regional titles and won State Championships in 2015 and 2017, going 99-27. Coach Keener has seen dozens of his student athletes go on to play college basketball, with former Knights Mitch Lightfoot (Kansas), Cameron Satterwhite (Loyola of Chicago & Northern Arizona), and Miles Lightfoot (Army-West Point) currently playing. Former players Chris Webber (Kings), Shane Battier (Heat). JaValle McGee (Lakers), Keith Benson (Hawks) Ray McCallum (Kings) and Edmond Sumner (Pacers) drafted into the NBA.
As the Knights compete in Division 3A it will be an exciting season! This year's squad brings back three starters, a great core group of young players. Once again look for an uptempo high scoring attack and a pressing, defense-minded team. The loss of center Miles Lightfoot (1st team All-Region, 2nd team All-State and both Region & State Defensive Player of the Year) and point guard Kyler Gargan (HM All-Region) to graduation it will present a challenge. Lightfoot set a new state record among all divisions for blocked shots (201) in a season.
This year's team will rely heavily on two returning All-Region Players; 1st teamer senior forward Nick Pappas and 2nd teamer junior combo guard Trey Donaldson. Last year Trey was the team's second leading scorer averaging 10.6 ppg and scored 26 points in the region tournament championship game. He brings quickness and athleticism to the team's offense as well as leading the team in steals. Nick returns as one of toughest guys in the program, he averaged 8.7 ppg, 4.7 rpg and always covered the opponents top perimeter player last season. Junior Matt Schillne only played 15 games after transferring in. He was Honorable Mention All-Region averaging 8.3 ppg, 3.5 rpg and 2.5 apg. Other returning varsity lettermen are junior Travis Lindsey 6.3 ppg, Tyson Heyn 1.3 ppg; sophomores Ayden Hoyt 3.0 ppg, Davis Reckard 2.3 ppg, Zack Miller and Karsten Gargan. One of the exciting additions to this year's team is senior postman Gavin Lloyd. At 6'9" Gavin provides much needed size and strength up front. Gavin transferred in after attending Immanuel Christian HS in the Fresno area. Incoming Freshman Kaden Earl had a great summer and will be looking to contribute at the Varsity level this season.
2018-2019 Season Highlights
3A All-State:
2nd Team Trey Donaldson, Honorable Mention: Nick Pappas & Gavin Lloyd
3A Metro East All-Region:
1st Team Trey Donaldson, Gavin Lloyd, and Nick Pappas
 2nd Team Matt Schillne, Honorable Mention Ayden Hoyt
Metro East Region Player of the Year:
Trey Donaldson
Metro East Region Offensive POY:
Trey Donaldson
Metro East Region Defensive POY:
Nick Pappas
Coach Kurt Keener:  800th Career Victory (804-228), West Team Head Coach in McDonald's All American game, Metro East Region Coach of the Year 
The official score system for GCS athletics is through AZPreps365 where you can review game results and other team information.