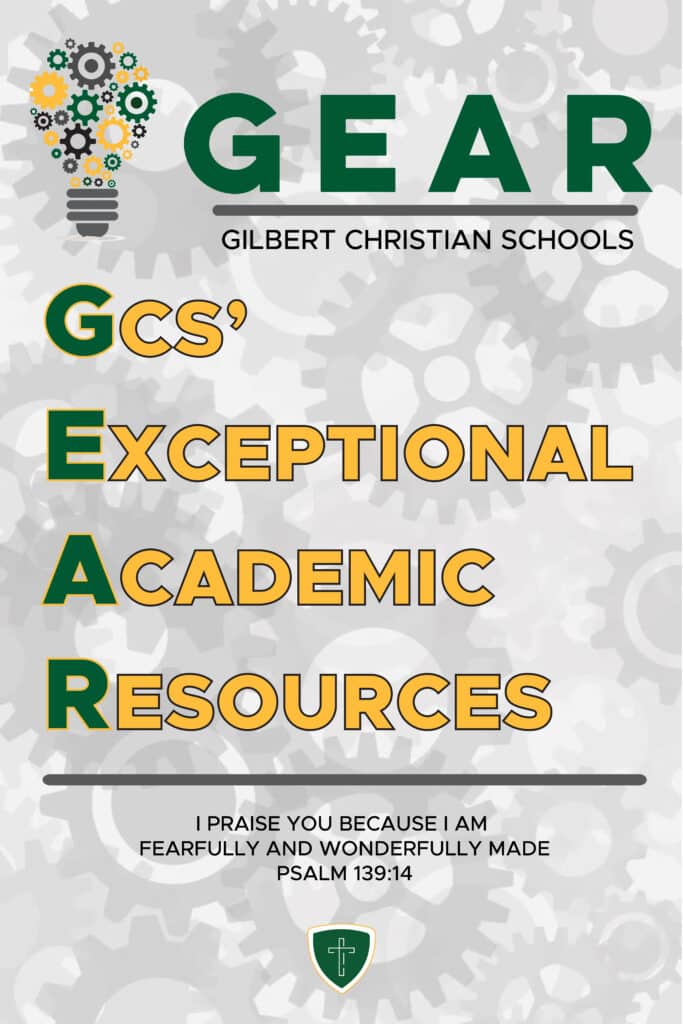 Gilbert Christian Schools believes that all children are fearfully and wonderfully made (Psalm 139:14). We desire to provide Christian education for children with unique learning styles including those who are gifted, or who have learning challenges. In an effort to meet these needs, we have established GEAR… GCS' Exceptional Academic Resources. This program seeks to serve students who are exceptional learners. 
It is ultimately our desire–and we believe God's desire–to reach out and serve all the children that we can, including those who are exceptional learners. However, we are not able to service every child with special needs due to the limitations of our finances, expertise, size, facilities, etc. Your communication to us about your child's academic needs or learning challenges along with the submission of records and prior evaluations will help us better determine our ability to help them maintain academic growth. In an effort to make the most informed decision regarding our ability to educate a student, placement testing may be required prior to admission to GCS. 
As a private school, GCS does not receive government funding for special education programs. Therefore, GCS is not legally bound to follow existing public school educational plans; however, the goals and recommendations contained in established IEPs and 504 Plans will be considered. Many times the accommodations recommended in these plans are best practices we implement in our regular education setting.  If your child is unable to maintain academic growth in the regular classroom we will develop an Individual Service Plan(ISP) or an Academic Accommodation Plan (AAP). Additional evaluations may be required prior to developing and implementing any type of student service plan.
These are the services GEAR students may be eligible for:
Reading Intervention with a certified reading specialist

Tutoring before or after school with GCS staff

Speech and Language Therapy

GEAR ELA or GEAR Math support

Additional accommodations or modifications in the general education classroom
We tailor our program to the needs of individual students who are enrolled in the GEAR Program. Class placement decisions will be based on input from parents, teachers, previous testing, current testing, and grades. Final placement decisions will be made by the K8 Student Services Coordinator and the Campus Principal.