Accreditation & Memberships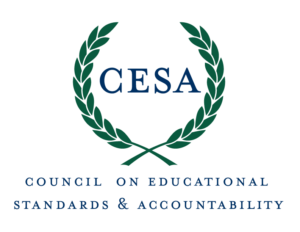 Status: Member
Since April 2022
Providing a high quality education, meeting the demands of consumers with more and more choices in the marketplace, and seeking to do so within a framework of Christian excellence are are critical to quality Christian schools. Raising the bar of excellence in Christian schools is at the heart of all that is done at CESA. To do so, The Council on Educational Standards and Accountability has established the Five Standards of Accountability, which provide a concrete, objective framework for schools to work within as they aspire to excellence that are applied with in the context of the peer-to-peer relationships of like-minded school leaders that set CESA apart.

Status: Accredited
Accredited since: November 2011
The Association of Christian Schools International (ACSI) works with Christian educators to perceive what God is doing in this present generation and to provide relevant and timely content that addresses real questions, concerns, and opportunities facing Christian schools. ACSI serves over 3,000 schools (preschool to grade 12) in the United States, over 20,000 schools (preschool to grade 12) internationally, and 120 Christian colleges and universities. The purpose of ACSI Certification is to strengthen Christian schools by credentialing educators who meet established professional and biblical requirements, which promotes continued professional learning and increased effectiveness. Establishing and maintaining the certification of staff and administration is an essential step toward professional credibility and growth. A Christian education at an ACSI member school will help your child grow spiritually, academically, and culturally.

Status: Accredited
Accredited since April 2005
Cognia is a non-profit, non-partisan organization that accredits primary and secondary schools throughout the United States and internationally and is the largest community of education professionals in the world, serving 34,000 educational institutions – employing more than four million educators and enrolling more than 20 million students across the United States and 70 other nations. Cognia conducts rigorous, on-site reviews of a variety of educational institutions and systems to ensure that all learners realize their full potential. Their goal is committed to help these institutions continuously improve.

Gilbert Chamber of Commerce
The Gilbert Chamber of Commerce has served as the business community advocate strengthening the business climate in Gilbert.  The Gilbert Chamber regularly communicates with and supports the initiatives of educational partners serving our community.